Newsletter Jan 2018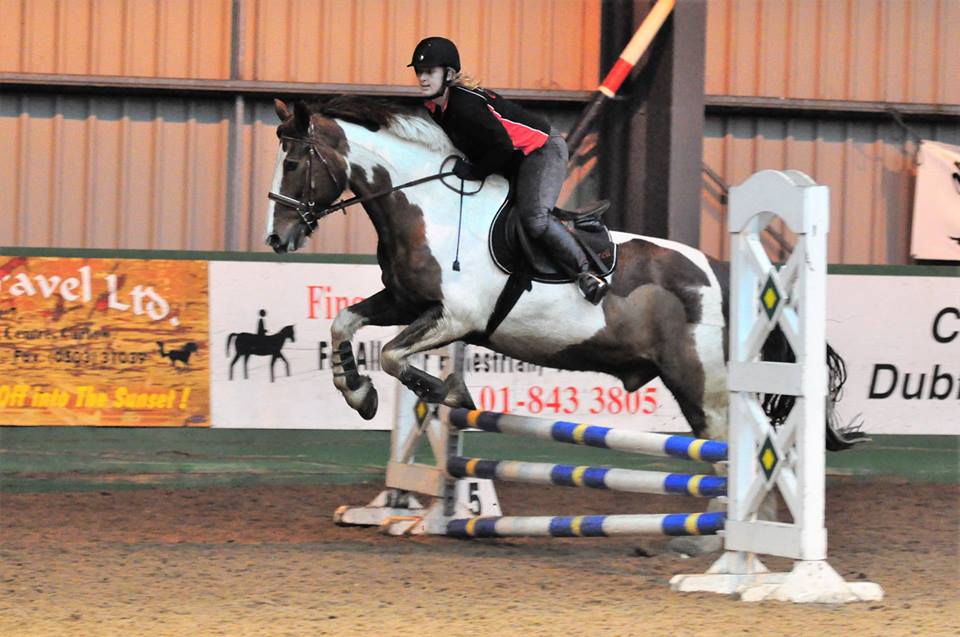 A happy new year to all our members!
Believe it or not the 2018 calendar is already filling up – between the club and the region there is something on every weekend between now and May!!
This year as a committee, we have a few goals to help make 2018 a great year for the club:
Work smart not harder when it comes to raising revenue i.e., try and run less shows by hiring out the grounds more.
Continue to encourage comradery and friendship between members
Encourage club members to actively participate in shows around the region
Encourage and support members in their training to help people move up the grades.
All that said lets crack on into 2018!!
A huge welcome to our new members – we hope to see you out and about this year.
A special shout out to Aishling O'Sullivan, Elaine Philips, Claire O'Dwyer and Karen Kelly who all upgraded for 2018. This is testament to the huge amount of work you guys have put in to your training, we have no doubt we will see great things from you this year.
Cheval Buddy system – There is whatsapp group to facilitate making arrangements with other members who may be looking for someone to accompany them to either a show or a clinic or to school with someone in Cheval the grounds.  If you would like to be included on the whatsapp group please text Angela.  There is no requirement to be on the group so if you have been included and would prefer not to be, just let us know we can remove you from the group.
Good luck to all our members who have new mounts – please let us know how you're getting on.
Notices
2018 membership – Membership form is available online or contact Karen at info@chevalridingclub.com we will be taking non 2018 members off the distribution list at the end of next month so please let us now if you are re-joining this year before then. Cards will not be processed without completed membership form and payment. Cards can take up to 10 days please keep this in mind.
Lancelot award nominations. These awards recognise the efforts of our volunteer members who perform their duties with the utmost of diligence while organising or helping at club, regional or national events. Cheval is fortunate to have two nominated people up for Lancelot Awards this year, Angela Day and Billy Hughes. We will be sending the club vote to head office on Wednesday morning next week so please list 1 to 3 in each category below and return by email info@chevalridingclub.com by Tuesday 30th. The nominations that receive the highest number of votes will be submitted as the club vote.
Club of the Year:

Clonlara Riding Club

Ross House Riding Club

Springmount Riding Club

Club Member of the Year:

Angela Day (Cheval Riding Club)

Mandy Hayden (Tinahely Riding Club)

Louise Somers (Kilronan Riding Club)

Club Secretary of the Year:

Mary Govern (Ross House Riding Club)

Helen O' Byrne (Waterford Riding Club)

Emma McKenna (Border Counties Riding Club

Person of the Year:

Johnny Bellew (Non-Member)

Doreen Egan (Three Counties Riding Club)

Billy Hughes (Non-Member)
Body protectors Only BETA Level 3 (purple) 2009 body protectors allowed from 2018 – the old 2000 standard is no longer up to safety standards
The Annual General Meeting of the AIRC is on Saturday 10th February 2018 at The Killeshin Hotel, Portlaoise, Co. Laois at 1pm. All are welcome.
Changes to 2018 National Show Jumping Championships – Penalties will now carry forward from the morning qualifier into the final where competitors will also jump in reverse order of merit. Only the top 16 riders will go through to each final but additional places may be allowed on the grounds of equality of penalties.
Nation Teams (SJ & D) entries must be submitted online via club secretaries going forward. This will ensure that only eligible riders and eligible horses are put forward – you must be a fully paid member before 30th April and your horse must be registered with the AIRC.
Horse registration – no matter what your competition plans are for 2018 we recommend you register your horse with the AIRC straight away. This avoids disappointment later in the year when you discover you cannot enter a particular show because this is not done. It is a very easy free process and can be done online https://airc.ie/horses/
Cheval Leaderboard – each year we keep a record of how club members are getting on and then have end of year awards based on results. Results of AIRC shows and Cheval open to all shows are eligible for the leader board. We will distribute the full guidelines over the coming weeks – but it is up to you to submit your results to Leaderboard@ChevalRidingClub.com in order to be counted.
Results
Last weekend saw a few of our members come together for team show jumping in Broadmeadows. Well done Cheval Riding Club 3 teams managed a turnout despite the rain. Our 90s team placing 2nd and 70s and 80s 4th and 5th.
Elsewhere Nuala Stafford had a double clear in Cavan and Roslyn and Susan had a great day in Anne Stanley's and Susan qualified for the Northern Ireland Festival.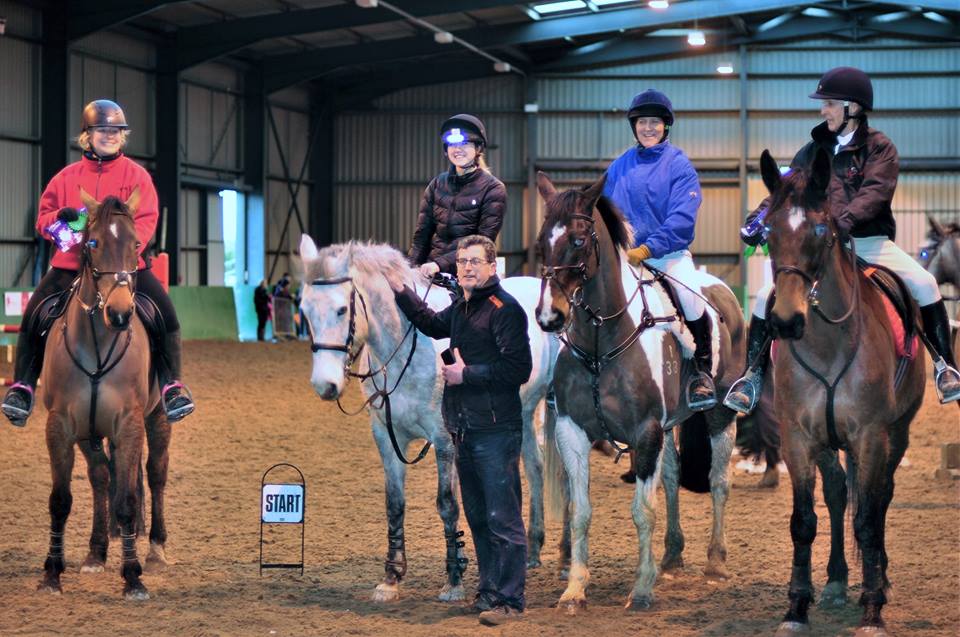 Upcoming Events:
The NER league kicks off this weekend in Kearnans. Good luck to everyone competing at the NER this year.
4th of February NER League Broadmeadows Cheval will be running Broadmeadows on the 4th of February so it will be all hands on deck for our first show of the season. Please contact Angela with your availability for help on the day.
21st February 7pm – RDS show jumping team talk – Kettles – anyone interested in tying out for this years RDS team (inter and above) should come to Kettles at 7pm on 21st We will be discussing strategy, try outs and our 2018 plan with the help and knowledge of past team members. This will only be 30 minutes long.
21st February 7.30pm – Performance Coaching with Poppy Blandford– – Kettles Poppy is a specialist in maximising human performance through mental coaching. Poppy works with ambitious individuals and teams to move them forwards. The aim of psychological coaching is to help people or teams to maximise their own performance by putting in place the necessary mental strategies to help them perform at their best. More information to follow
Social events – we will be planning a social event over the next few weeks so watch this space! Also anyone going to Castle Leslie for the NER final and staying on the Saturday night we are hoping to book a club dinner in the BYOB pizzeria. Also we might look at organising a XC session on the Sat afternoon. Contact Triona or Ger
Training: The NER have subsidised Tayler Vard Show Jumping Clinics in Kilronan – starting 1st of Feb – see the below calendar for more details. A dressage clinic is also being organised with Sandra Blake Farrell date to be confirmed.
Membership Benefits:
All Cheval Members are now Preferred Customer of The Physio Company, Chartered Physiotherapy and Sports Injury Clinics! Each member is entitled to:
€10 discount on treatment charges
Preferred Appointment times
Free 15 minute Initial Assessment
The free consultation is designed to assist those members who feel that they might have an injury, unexplained pain, reduced flexibility, joint stiffness, muscle imbalance or a postural problem, however are unsure of whether this can be treated and if so how and by whom.
It is worth noting if you have health insurance you may be entitled to a further discount.
Locations: 21 Physiotherapy Clinics across Dublin (Baggot St, Barrow ST, IFSC, Merrion Square, Temple Bar, Durmcondra, Malahide , Navan Rd, Raheny, Santry, Swords VHI to name a few – see www.thephysiocompany.com)
Call 1890 749746 to make an appointment making sure you advise you are a Preferred Customer as a member of Cheval
Remember your AIRC card also gives you a discount in the Horse Mad Store (sponsors of the Spring Show) and Whites Argi!
Safety
Safety remains of utmost importance to Cheval. With the increasing number of lawsuits insurance prices are on the rise. The AIRC's own insurance went up 40% last year – and for Cheval insurance is our biggest annual expenditure. We must be vigilant to ensure all accidents are avoided and when they do happen we follow a strict protocol. This will help lessen the chances of the club being sued.
With that in mind:
Please be reminded no one can ride in the grounds without a competent person with them. This person must be able to call for an ambulance and give directions in the worst case scenario.
At all times whilst mounted a riding hat (up to current AIRC standard) must be worn and must be fastened closed.
If you have a fall whilst training on the grounds you must report it to a member of the committee – you will be required to fill out an accident report form soonest
A body protector is recommended for jumping.
At any show run by any AIRC club:
If you have a fall or have an accident you must report it to a member of the hosting club committee or the entries desk – you will be required to fill out an accident report form before remounting
Be vigilant – if you see anyone acting in an unsafe manner you can ask them to stop or report it to a member of the hosting club
At any show run by Cheval:
If you have a fall or have an accident you must report it to a member of the show committee or the entries desk – you will be required to fill out an accident report form before remounting.
If you see anyone fall – ensure they fill an accident report form before remounting – we need all members to help with this as if Cheval's insurance increases so will your membership.
Be vigilant – if you see anyone acting in an unsafe manner you can ask them to stop or report it to a member of the committee urgently – remember Cheval is your club and your responsibility.
There is a two fall rule – if you fall twice at any show run by Cheval you are not allowed remount at that show under any circumstances
We will be providing members with some training on how to complete an incident report form – the more detail provided in this form the better as it can help avoid law suits down the line.
Ground access
The grounds are available for members to use schooling. You can also bring a non member along for €15.
Yvonne Hughes is the key holder for the grounds – contact her on 0860620983 (24 hours notice)
Common sense and above safety rules apply. Please let us know if you notice any damage or issues on the grounds or if something breaks. Please do not ride on the grass in wet conditions as it only leaves the ground in bad shape for our summer season.
Committee members:
Angela Day – Chair – info@chevalridingclub.com
Karen Kelly – Secretary – info@chevalridingclub.com
Triona Dever – Treasurer- treasury@chevalridingclub.com
Racheal Reid – Club and regional training coordinator – Training@chevalridingclub.com
Aishling Mofitt –Dressage league coordinator and regional minutes secretary
Geraldine Farrell – Club dressage coordinator organiser and social event planner
Elaine Philips – Dressage Team coordinator
Aishling Bradwell – Dressage Team coordinator
The committee is supported by others such as Martian and Bree how help look after the ground, Catriona Monks Walsh our technical genius, Bernie as grading officer, Christina who looks after the leaderboard Yvonne who minds the key. These people (and others) are absolutely vital to the running of the club – their help and support is greatly appreciated.
| | | | | | |
| --- | --- | --- | --- | --- | --- |
| Date | Details | Type | Open to all / AIRC only | Venue | Note |
| Sat 27 Jan | Saddle fitting with Roger Gordon | Training | Open to all | Cheval | contact Maria Carrick @ 0876241743 |
| Sun 28 Jan | Equipet Winter Show Jumping League | Show | AIRC | Kernan's Equestrian Centre | |
| Tue 30 Jan | Dressage & Show Jumping Clinic with Kevin McGuinness | Training | AIRC | Castle Hill Equestrian Centre | https://mo.airc.ie/eventcalendar?ec=2272 |
| Thu 01 Feb | Show Jumping Training with Taylor Vard | Training | AIRC | Kilronan | https://mo.airc.ie/eventcalendar?ec=2262 |
| Sun 04 Feb | Equipet Winter Show Jumping League | Show | AIRC | Broadmeadows | Run by Cheval |
| Thu 08 Feb | Show Jumping Training with Taylor Vard | Training | AIRC | Kilronan | https://mo.airc.ie/eventcalendar?ec=2262 |
| Sat 10 Feb | National Annual General Meeting & Lancelot Awards | Meeting | AIRC | The Killeshin Hotel Co. Laois | |
| Sun 11 Feb | Equipet Winter Show Jumping League | Show | AIRC | Cloncaw | |
| Tue 13 Feb | Dressage & Show Jumping Clinic with Kevin McGuinness | Training | AIRC | Castle Hill Equestrian Centre | https://mo.airc.ie/eventcalendar?ec=2272 |
| Sun 18 Feb | Equipet Winter Show Jumping League | Show | AIRC | Killossery | |
| Mon 19 Feb | Connolly's Red Mills National Dressage Championships | Show | AIRC | Mullingar Equestrian Centre | |
| Wed 21 Feb | Cheval Showjumping teams meeting  (7pm) | Meeting | Cheval AIRC | Kettles | |
| Wed 21 Feb | Confidence Coach Talk details (7.30) TBC | Training | AIRC | Kettles | |
| Thu 22 Feb | Show Jumping Training with Taylor Vard | Training | AIRC | Kilronan | https://mo.airc.ie/eventcalendar?ec=2262 |
| Sun 25 Feb | Equipet Winter Show Jumping League | Show | AIRC | Bennetts Equestrian Centre | |
| Tue 27 Feb | Dressage & Show Jumping Clinic with Kevin McGuinness | Training | AIRC | Castle Hill Equestrian Centre | https://mo.airc.ie/eventcalendar?ec=2272 |
| Sat 03 Mar | Cross Country / Hack | Social | Cheval &friends | Castle Leslie | |
| Sat 03 Mar | Club dinner | Social | Cheval &friends | Castle Leslie | |
| Sun 04 Mar | Equipet Winter Show Jumping League (F) | Show | AIRC | Castle Leslie | |
| Sat 10 Mar | Cheval Dressage League | Show | Open to all | Cheval | |
| Sat 31 Mar | Cheval Dressage League | Show | Open to all | Cheval | |
| Sat 07 Apr | Cheval Dressage League | Show | Open to all | Cheval | |
| Sun 08 Apr | Connolly's Red Mills National HT  Championships | Show | AIRC | Flowerhill Equestrian Centre | |
| Sat 14 Apr | NER Dressage Training with Sandra Blake Farrell – TBC | Training | AIRC | Details TBC | |
| Sat 21 Apr | Cheval Dressage League (F) | Show | Open to all | Cheval | |
| Sun 29 Apr | Dressage & Working Hunter Show | Show | AIRC | Castle Hill Equestrian Centre | https://mo.airc.ie/eventcalendar?ec=2276 |
| Sun 06 May | Ashbrook Derby Day | Show | AIRC | Ashbrook | |
| Sun 13 May | Showjumping Show | Show | AIRC | Kernan's Equestrian Centre | |
| Sun 20 May | Kilronan Summer Show | Show | AIRC | Kilronan | |
| Sun 27 May | RDS Team qualifier | Show | AIRC | Kernan's Equestrian Centre | |
| Sun 03 Jun | Cheval Pre Festival | Show | AIRC | Cheval | |
| Sun 24 Jun | NER Dressage Championship qualifers | Show | AIRC | National Sports Arena | |
| Sun 08 Jul | Connolly's Red Mills National SJ  Championships | Show | AIRC | Mullingar Equestrian Centre | |
| Sun 22 Jul | Horse Trials | Show | AIRC | Cloncaw | |
| Sun 29 Jul | Cheval Derby Day | Show | AIRC | Cheval | |
| Sun 02 Sep | TRI Equestrian National Eventing Championships | Show | AIRC | Lisgarvan House | |
| Sun 12 Aug | Team Show Jumping Championship Final | Show | AIRC | RDS | |

Category: