About Cheval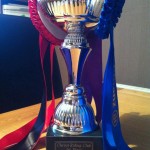 Based in Jordanstown, North County Dublin, Cheval is one of the few Irish riding clubs to boast its very own show grounds. Founded in 1977, by a group of like minded equestrian enthusiasts, with the aim of encouraging armature horse owners' education, social mixers coupled with a little bit of healthy competition…..
Today Cheval is one of the biggest riding clubs in North County Dublin, aligned with the Association of Irish Riding clubs, many of our members go on to compete at national completions across Ireland at every level.
With talks, demonstrations and clinics one of the core aims of the club remains education – but organised weekends away and social evenings help make sure there is always time for a little fun!
Annually we host AIRC and open to all competitions in showjumping, dessage, team jumping, working hunter, showing & derby competition. Check out the events page for upcoming competitions.
(16) Cheval Riding Club | Facebook
Cheval Committee & Members would like to Sincerely Thank Everyone who supported them throughout 2022. We acknowledge and hugely appreciate all the time and energy given so generously by our familles, friends, coaches and sponsors who support our passion for this sport and all the joy, fun and friendship it brings.
Thank You for the Leg Up